Love Is In The Air - New Gruffies & Guests DT
Hello lovelies
Hope you are all having a better 2014 than me. I have been ill since 1st January! First had extreme fatigue, then UTI and now the flu, hoping the year improves shortly. Although I have caught up with a few Disney movies which has been nice.
As we enter February it means we have a new challenge over at
Gruffies and Guests Challenge
. Our very first challenge was amazing with over 50 entries and I really enjoyed looking at everyone's entries, so inspirational and gorgeous. There really are some amazingly talented crafters out there in the world and I feel privileged to be part of the crafting movement.
Today I share with you my DT card for the February Challenge of "Love Is In The Air". I have gone against the traditional red and pink and gone for autumn colours with kraft card. The main reason for doing this is I desperately wanted to try out my new kraft card I purchased from Papermill Direct and also I wanted to make an Anniversary card (I send so many).
I have used this gorgeous little House Mouse image from the triple cd with matching backing paper. I have used the LaLa Land Crafts heart banner die and used this down the side which is different then what I have tried before and I quite like the effect. Also used some orange ribbon and hearts with gold gem centres. Added a bit of glitter to the image for that added sparkle.
Hope you like it and please, please, please join in with the Challenge.
This month is sponsored by Dawn to Dusk - who have donated a voucher.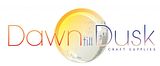 Good luck xx